Equipment maintenance
Fischer Ski Centre offers professional maintenance of cross-country skiing equipment. You can leave all types of cross-country skis and ski poles at the service centre. We use professional and quality Briko Maplus brand ski wax and materials for the maintenance. An experienced professional will assess your equipment and suggest the best maintenance strategy for a quality and enjoyable skiing. The maintenance and preparation of competition equipment is also available at the service centre.
A large part of success in sports depends on the quality of the equipment. The best professionals take care of that on our track, by providing an expert assessment and maintenance of the cross-country skis and ski poles with the Briko Maplus brand materials. Particular attention is paid to the maintenance and preparation of the competition equipment.
Don't forget about the maintenance of the skis at the end of the winter. Before you put away the skis for the summer, it is important to carry out maintenance work and prepare them for the summer. During the off-season, when the skis are not used, this protects the sliding surface of the skis from the impact of the external environment – dust, pollutants and drying out. Take care of your skis to make sure that they also slide well in the next season.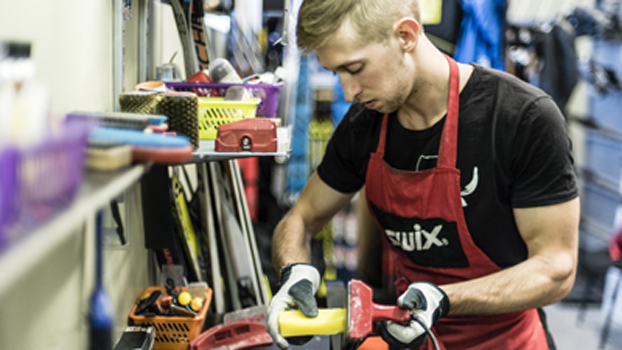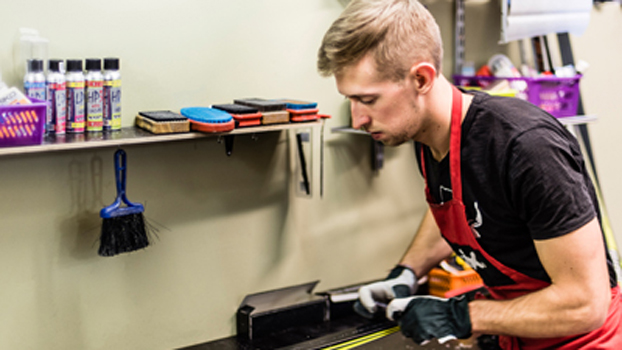 | Cross-country ski service | |
| --- | --- |
| Fluorine-free paraffin application with an iron | 6.00 |
| Paraffin an fluorine application with an iron (LF) | 7.00 |
| Paraffin an fluorine application with an iron (HF) | 12.00 |
| Paraffin an fluorine application with an iron (LF + HF) | 17.00 |
| Accelerator application | 17.50 |
| Glide surface cleaning with hot wax | 5.00 |
| Glide surface cleaning | 3.00 |
| Preparation of new skis | 20.00 |
| Ski foot smear application | 2.50 |
| Ski foot smear application with glister | 3.50 |
| Ski foot cleaning | 3.00 |
| Glister cleaning | 4.00 |
| Stick tip, handle repair | 4.00 |
| Stick cutting | 6.00 |
| Stick pole replacement | 8.00 |
| Attachment of ski fasteners | 5.00 |
| Glide surface structure | 2.00 |
| Ski preparation for the race | 35.00 |